Radish Greens
Good morning all you healthy eaters! We are in the process of starting a microgreens crop rotation for the CSA. We started a flat of half pea shoots and half radish 7 days ago. Yesterday, the radish side was already harvestable after 7 days. That little half flat of radish greens only netted a few handfuls. But once we get going with these, I can't see any reason why we cannot run 30 full flats per week of micro-greens. As we continue trials with different seed types and seed densities in the flats, we can start growing out multiple flats of micro-greens that have proven to be successful for our CSA. Right now, radish is clearly going to be one solid microgreen. We are hoping to get a good brassica like kale or broccoli. We expect that sunflower is going to be a good grower too. Everything I have read and everyone tells me sunflower shoots will be a solid micro-green. I am still waiting on my order from Peaceful Valley seeds to give sunflower a go. I can't wait to try them because they are supposed to be big, fast and tasty. Red amaranth looks beautiful in a mix. But she took a long time and barely netted us any weight from a whole flat. We might just run her on special occasions. Pea shoots are going to be a good producer. They are just taking a little longer than some others.
A sample mix with baby arugula radish and amaranth micro-green with calendula leaf. This is an example of the type of mixed we want to be providing every week. Beautiful, nutritious, flavorful and packed full of sun energy!
Until we get into production with a few solid greens in multiple flats each, there is not going to be enough micro-greens for everyone to get a bag. This week, we added a few pinches of the trial cuts into your regular bag of salad greens. At least this way, you can all get a taste of what is going on.
Our vision is to make a bag of micro-greens a stand alone addition the weekly CSA share.
The greenhouse materials are already onsite. And it will start going up next week. This is perfect timing because the greenhouse is where most of the micro-greens will need to be produced. For now, it is still warm enough to keep growing the micro greens outside. We just have them laid out in benches and tables wherever we can. I guarantee that you will be hearing , seeing and tasting more about microgreens in the weeks to come. They've been so neat to work with. They are definitely my new kind of fun.
Here is what we are eating.
A few zucchini
Persimmon
Salad mix with micro-greens
Tomatoes
Cucumbers
Chard and Kale
Jalapeño
Bell pepper
Ramona grown pineapple
5 Uber-Organic nutrient dense vibrant colored home grown chicken eggs!
Basil
Here is a housecleaning tip that I make sure to share since we are always getting new members. Clean your greens and your salad mix before eating. All we do at the farm is "field wash" your veggies. Cleaning your own greens is one way, as a group, that we are able to keep the cost of the CSA low.
The basil this week is good and fresh. It is a little limp though. The absent minded farmer left it in a basket between the broccoli and the tomatoes for over an hour as he was chasing a stray chicken. When he got back it was looking a little limp. "The basil, not the chicken".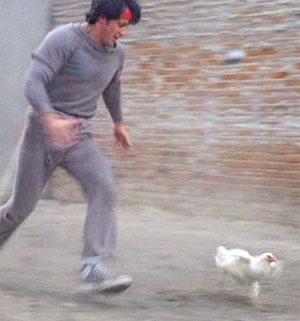 Last week, we mixed sun dried tomatoes with basil almonds parmesan olive oil and garlic. That pesto went on almost everything for a week. Then one night we seemed to be out of salad dressing. So, some balsamic and more olive oil got dumped into the half empty pesto bowl and now it's dressing!